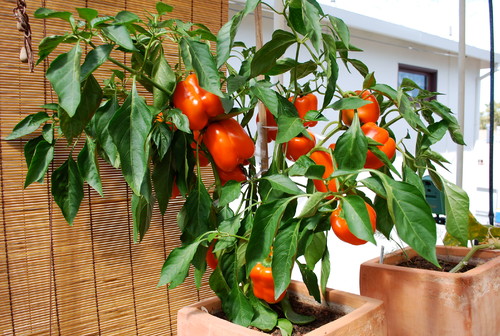 -
Expert Tips for Growing Edibles in Containers
- Reporting Change Could Raise Credit Scores, Risk
- Fed Raises Rate for Second Time in Three Months
- Somehow, Bay Area home prices went up yet again in February
- Waging the fight for affordable housing
- The state's housing crisis won't be solved unless Californians embrace new home building, report says
- Great Home Project: Pass-Through Kitchen Window
Enjoy!
Reporting Change Could Raise Credit Scores, Risk
- The three major credit reporting agencies have announced a significant change in their credit reporting metrics that could both boost credit scores for millions of consumers and cause potential problems for lenders. There are fears that the change in reporting negative public records information could pose potential risks for lenders as they try to accurately predict borrowers' creditworthiness. The Journal quotes information from LexisNexis Risk Solutions, which supplies such information to the credit bureaus and to lenders. They maintain that consumers with liens or judgments are twice as likely as others to default on loan payments.
Fed Raises Rate for Second Time in Three Months
- The Federal Open Market Committee concluded its meeting with the announcement that the Fed will raise interest rates by 25 basis points to 1 percent. The last rate hike occurred in December, when the Fed moved to raise rates from .5 percent to .75 percent.
Somehow, Bay Area home prices went up yet again in February
- February's Bay Area median price for a single-family home was $784,470, up 12.2 percent from $698,950 in February 2016. Meanwhile sales dipped 2.7 percent across the nine-county region during the same one-year period.
Waging the fight for affordable housing
- Saver is senior attorney for the housing program at Community Legal Services in East Palo Alto (CLSEPA), which recently received a $3.1 million grant to ratchet up its housing advocacy programs. The three-year grant — from the Chan Zuckerberg Initiative, founded by Dr. Priscilla Chan and her husband Mark Zuckerberg, CEO of Facebook – will expand the agency's staff of housing attorneys, allowing it to serve an additional 2,500 clients, mostly on the Peninsula and many facing eviction or living in unsafe housing because of exorbitant rents.
The state's housing crisis won't be solved unless Californians embrace new home building, report says
- "Unless Californians are convinced of the benefits of significantly more home building — targeted at meeting housing demand at every income level — no state intervention is likely to make significant progress on addressing the state's housing challenges," the report said.
Great Home Project: Pass-Through Kitchen Window
- Love indoor-outdoor living? See 5 windows that make serving drinks, snacks and meals alfresco a breeze. Some of my faves: