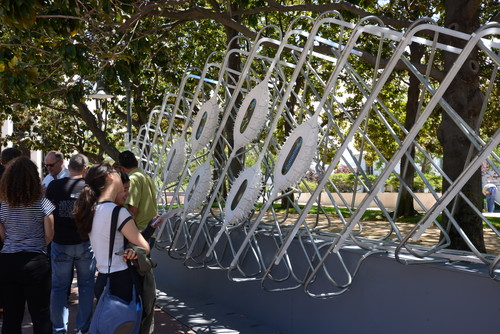 -
These Urban Art Pieces Invite Connection With People and Place
- Chan Zuckerberg Initiative invests $5 million to help teachers buy homes
- Google Invests In Modular Homes to Combat Silicon Valley Housing Crunch
- Millennials undaunted by competitive housing market
- Fannie to Loosen Mortgage Requirements
- Led By China, Foreign Investment in U.S. Commercial Real Estate on the Rise
- 7 Alternatives to the Painted Accent Wall
Enjoy!
Chan Zuckerberg Initiative invests $5 million to help teachers buy homes
- "In the Bay Area, few challenges are greater than the need for affordable housing. It's an issue affecting many of the local schools we work with, where too many students and their families are struggling to stay in their homes and neighborhoods, and recruiting and retaining top teachers is a challenge," David Plouffe, president of policy and advocacy at Chan Zuckerberg Initiative, said in February.
Google Invests In Modular Homes to Combat Silicon Valley Housing Crunch
- Home prices in California tech hubs such as San Jose, Palo Alto, and Cupertino rank among the priciest in the country. According to a study by the online residential real estate site, Trulia, the median home value within Silicon Valley (Alameda, Santa Clara, and San Mateo counties) has jumped from $535,614 in 2012 to $888,444 in 2016. Which has forced not only Google's hand in dealing with the situation, but Facebook's as well. Last year, the social media empire announced it would invest roughly $20 million in two cities that surround its Menlo Park, California, campus, to create a fund to build new housing units, of which 15 percent will be classified as affordable housing.
Millennials undaunted by competitive housing market
- "This new generation of homebuyers is making its presence felt across the country," said Joe Tyrrell, Ellie Mae executive vice president of corporate strategy. "Since the beginning of 2016, the percentage of Millennials purchasing homes in the Bay Area has actually increased from 16% to 20%."
Fannie to Loosen Mortgage Requirements
- Government-sponsored financing giant Fannie Mae will ease its requirements next month, raising its debt-to-income ceiling from 45 percent to 50 percent on July 29. The move could pave the way for a larger number of new buyers to qualify for a mortgage, particularly millennials who may be saddled with student loan debt.
Led By China, Foreign Investment in U.S. Commercial Real Estate on the Rise
- Similar to NAR survey findings on foreign purchases of residential real estate in recent years, China was the top country of origin in both buying and selling commercial real estate in 2016, and Florida was the top destination of choice for international clients. NAR's 2017 Profile of International Activity in U.S. Residential Real Estate is scheduled for release this summer.
7 Alternatives to the Painted Accent Wall
- Create a focal point in a room without having to bust out the painting supplies. Some of my faves: